sEnergy EMS incorporates a touch-button what-if analysis tool that enables you to probe minor and major changes in configuration. You can instantly preview the consequences of making changes to your data center - without actually changing a thing - such as:
Adding or removing servers and cabinets
Server virtualization deploying new cooling or power equipment
Adding, removing, or moving perforated tiles and registers
Installing containment and duct systems
Installing in-row coolers, spot coolers and other types of secondary heat exchangers
The what-if analysis capability of Senergy EMS is unlike no other. You get immediate feedback on the energy implications of proposed changes before actually committing to make them, thereby enabling you to avoid costly mistakes.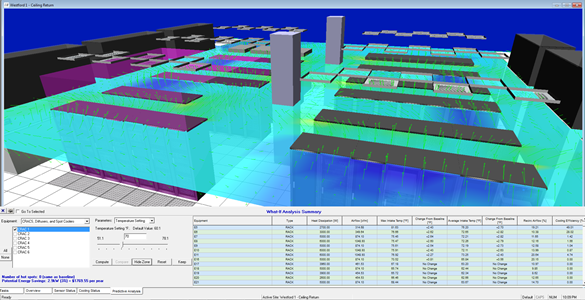 Multiple Configuration Management
All this is backed by a sophisticated configuration management tool that enables you to pull entire offline configurations at the click of a button, make changes, and conduct analysis. Create as many different configurations as you wish and compare their performance. Answer such questions as how far you can go with your current facility without major upgrades or building a new facility.