Datacenter and Building Design Evaluation Services
Datacenter and commercial office builders can leverage Senergy's design rendering and energy performance assessment services to evaluate and communicate their design proposals before construction. You can leverage our services at any point in your project, whether your project is a new design or a major retrofit.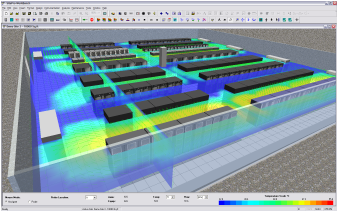 Our consulting services are performed using our own software tools and include:
Generating a web-enabled 3D virtual rendering of your design.  More than just an artist's rendering, this is also an engineering document that can be used for analysis and performance evaluation. Your design team, your customer, and other remote sites around the world can view, manipulate and conduct virtual walks through your design using any web browser. Communicating your ideas to the design team and your client cannot be easier.
Using the 3D model, we can carry out whole building energy analysis for energy performance assessment and LEED certification.
Generating equipment commissioning electronic documents that can also be used for downstream maintenance activity.
Cooling assessment of data-centers. We can evaluate the performance of potential cooling infrastructure designs against potential equipment populations including:
Size and distribution of CRAC units
Height of raised floor against pressure and flow distribution
Height of dropped ceiling/return plenums against mixing and flow by-pass
Floor tile layout and resulting pressure and flow distribution
Layout of diffusers and return registers  
Building  and equipment layout to take advantage of free cooling
Ducting design and layout
Design and performance assessment of containment systems
Please use the Contact page to contact us if you are interested in learning more about our services and how we can help you with your project.