SitePro - Design Optimization for the Critical Site Professional
Site Professional is a 3D thermal and CFD analysis software specifically designed for analysis of mission critical data centers and central offices. With a rich feature-set of advanced modeling tools, SitePro is highly flexible in that it can model any type of data center physical design (be it hard floor or raised floor), cooling infrastructure and air ducting design, walls and partitions, blanking panels, air curtains, and any other design features relevant to the cooling of the space.

SitePro Modeling
Flexible Workbench
The SitePro workbench is a 3D virtual reality view of your site. In addition, the software also generates a 2D floor plan that aids you in laying out equipment on the floor. Your Visio or CAD generated floor plan may be overlayed on the SitePro floor plan to further help with equipment layout. You can work in either the 2D or 3D virtual reality view; any change made in one view is automatically reflected in the other view. This gives you tremendous flexibility in modeling your site and equipment population. Combined with the extensive equipment library and import features of the workbench, you can model most sites in a matter of minutes, not hours or days.

Extensive Equipment Library
SitePo is equipped with an extensive equipment library. The library is user-customizable, so you can add your own equipment that may not yet exist in the library, or change the default properties of a given model of equipment in the library. The library covers major manufacturers, and includes IT equipment, racks and cabinets, UPS, cooling equipment and heat exchangers, air handling equipment such as registers and perforated tiles, fans, etc. This ensures that that as a user, you will not waste time looking for specs on most equipment. The library makes equipment setup a snap – drag and drop from the library to place any equipment in the room or on a rack.
Import and Export
If the simple drag-and-drop modeling is not your thing, you can also import equipment line-ups from XML and CSV text files. SitePro allows you to selectively export equipment line-ups to a Microsoft EXCEL or CSV file. You may then edit and propagate properties across multiple equipments within the spread sheet, and re-import the line-up into SitePro. SitePro allows the import of an entire facility definition, including structures and equipment, via an XML file. Thus if your design software or asset management system can export its objects to an XML file, you can export your existing database into SitePro with little effort. All this flexibility is offered to keep your modeling activity to a minimum so you can concentrate on optimizing your design for best cooling effectiveness.
Even More Flexibility
Other flexibility features in SitePro include point-and-click and form-based setup of duct networks, walls and partitions, blanking panels, and aisle containment systems.
SitePro Collaboration
With a point-and-click 3D virtual reality modeling interface available in SitePro, designers can easily translate and communicate their proposals and CAD designs to clients in virtual reality. Akin to rapid prototyping, CAD designs can be quickly translated into a three dimensional virtual representation of the facility. SitePro's powerful navigation features can then be used to conduct photo-realistic virtual "walk-through" of the facility to optimize space allocation, check interferences, and verify spatial requirements for equipment installation. Define averters of any size and use them to conduct virtual "fly-through" of potential equipment layouts to check for interferences, complete with collision detection.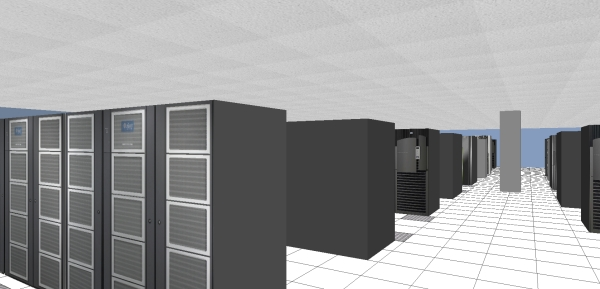 Your design documents and ideas, equipment specifications and initial performance data, design analysis and verification data, can all be captured into SitePro for downstream migration to the facility owner. In fact, by having a SitePro installation file as one of your project deliverables, facility managers and operators canuse the same model for equipment build-out, monitoring, operation and maintenance. Communication is made very easy by hosting everybody on the same platform.
Online Collaboration
The full SitePro 3D model may also viewed through a standard web browser. This makes it much easier to collaborate with the rest of your team and communicate your designs to your clients, local or remote.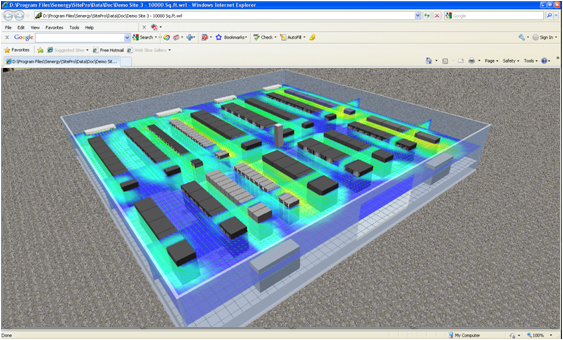 SitePro Thermal Modeling
Advanced CFD Simulation
SitePro solves the complete 3D Navier-Stokes transport equations, including convective heat transfer, in all air flow domains that are part of your simulation. The solver is designed to take advantage of multi-processing power provided by multi-core processors and/or multi-CPU computers. Thus the more CPUs available to the solver, the faster the solution process will be. The modular architecture of the solver also means that you can spread the solution task across multiple computers on your network (under the proper licensing mode) thus allowing for easy scalability to tackle really large systems.
Advanced Modeling Capabilities
SitePro offers a decided advantage over other systems in the way you can model servers and racks.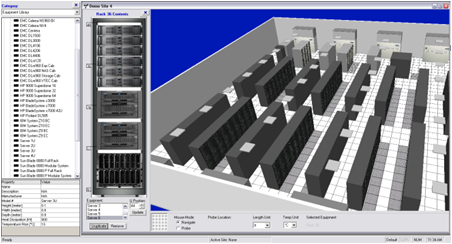 First of all, you are not restricted to a simple front-intake back-exhaust model – you can model multiple vents, with the exact sizes and patterns of all vents on the equipment wherever they exist.
Secondly, SitePro allows you two ways to model a rack of servers:
you can model the rack as a black box by aggregating all the heat dissipation and air flow rates of servers mounted on the rack,
or you can chose to detail the rack exactly as it is, down to the equipment shelves.
You can also do a mixed-mode modeling in which you may wish to detail a specific equipment shelf and aggregate all the rest. In cases where you may wish to concentrate on specific critical areas or trouble spots, you can choose to detail only some racks and model the rest as black boxes. For even more flexibility, the method of representing racks is made a run-time decision: even after detailing some or all of the server racks you can still choose to model all racks as black boxes anyway, at run time.
Create, Manage, and Compare Multiple Configurations
Creating additional configurations of the same site in SitePro is done quite easily with a simple point-and-click. Once a new configuration is created you can compare its thermal performance to the original and other derivatives using one of SitePro's simple automated report generation tools. Once you have decided on your optimum configuration you can adopt it as the default design and remove the other models.
All these automation tools in SitePro are designed to get you doing less modeling and thinking more of thermal performance and energy efficiency.