ActiveCFDTM - The Advanced Control Solution For Datacenter Cooling
With a host of capabilities not available in any other control solution, such as dynamic zoningTM and continuous commissioning, the optional ActiveCFDTM module intelligently optimizes and adapts the cooling performance to the prevailing heat dissipation. ActiveCFDTM enhances traditional reactive control with predictive control that pre-profiles eventual steady-state conditions, enabling your system to react faster to the environment, and to unexpected events. Network and control any make of CRAC/CRAH or VFDs out of the box.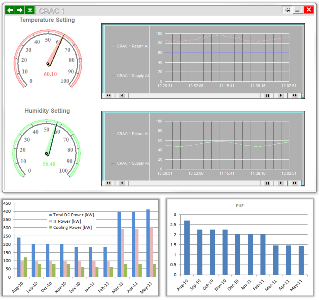 The always-on ActiveCFD solver incorporates your environmental and power measurement data and continuously analyzes your IT room to offer suggestions or take control of optimizing your cooling infrastructure. Identify the very minute areas of the room that might need improvement based on cooling inefficiencies in individual racks and servers, parasitic recirculation flows, wasted CRAC capacity, or hot spots. Transform your monitoring infrastructure from a few discrete sensors to a "cloud" instrumentation environment that shows what is happening in every inch of your data center using an easy-to-understand pictorial format.
ActiveCFDTM includes extensive modeling capabilities:
Structural elements - and internal walls, doors & windows
Ducting
Blanking panels
Block-off regions
Wire cages
Equipment located on the roof
Cable pathways
Patch panels
With the rapid model setup feature, you can read in assets from a spreadsheet or drag-and-drop equipment assets from the sEnergy graphical library.
You can also create and analyze multiple offline configurations and compare projected performance to the current baseline.
This module also allows you to model any size and design of facility:
Slab floor
Raised floor
Overhead delivery
Modular data center